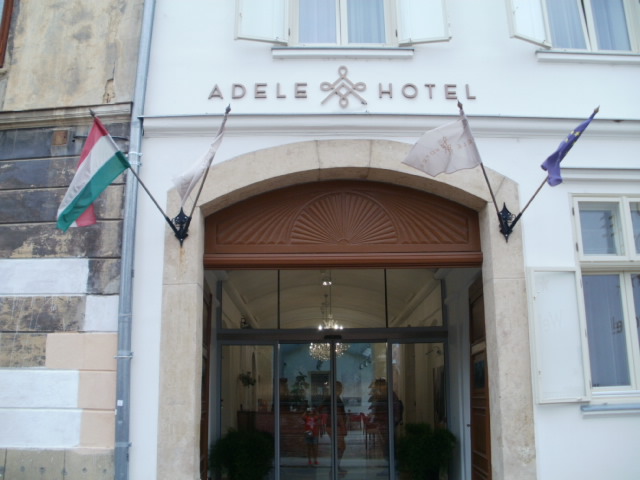 Adele Hotel
Adele Boutique Hotel is located in the heart of the historic centre of Pécs, in a very pleasant, authentic environment. This 4-star hotel is housed in a 200-year-old 19th-century historic building, elegant and stylish. If you want to explore and enjoy the city centre, you are in the right place.
The entrance to the hotel is photocell, there is a recessed bench in front of it. The ground here is laid out with old-fashioned small stones (cobblestones).  The reception desk is accessible from a wheelchair, the staff are helpful, empathetic, flexible.
The reception area includes a lounge and dining room, both accessible and comfortably accessible by wheelchair, there is space for about 8-10 people.
They have one accessible room, located on the ground floor, accessible via the winter garden. The room is actually an apartment with a separate, spacious living room and bedroom. A handrail on your front door will help you use it. The beds are higher than average. Comfortable and pleasant accommodation for two people.
There is also a handrail on the bathroom door. The bathroom is spacious, accessible, the washbasin, toilet, and shower are easily accessible. There is a folding plastic chair in the shower.
The elevator leading to the other floors of the hotel is not accessible, there is a staircase in front of it, no Braille writing and it does not indicate the levels with speech. We also recommend some caution on the marble staircase between the floors upstairs as they are slippery.
For hearing impaired there is no induction loop in the building.
Website:
There is no accessible menu. It can be used from a motion damaged point of view. As a visually impaired person, it can be handled well with a screen reader. The images aren't captioned, making browsing with a screen reader difficult.
Getting there:
by bus: all buses of Pécs arrive at the Árkád and Konzum shopping centers. From there on foot on the Irgalmasok street  to Széchenyi Square it is accessible by a small ascent. Turning right, Mária street is also accessible, but there is relatively high car traffic. And  the bus number 44 from Railway Station stops right in front of the hotel. Get off the bus at the stop on "Mária utca".
By car: it is possible to park on Mária street, the hotel's own parking lot is across the street for 20 cars. It is a paid parking lot. The front door can be opened at the touch of a button. There is no designated accessible parking lot. Disabled people can park free of charge on the street front with a disabled pass.
Location
7621 Pécs, Mária utca 15.