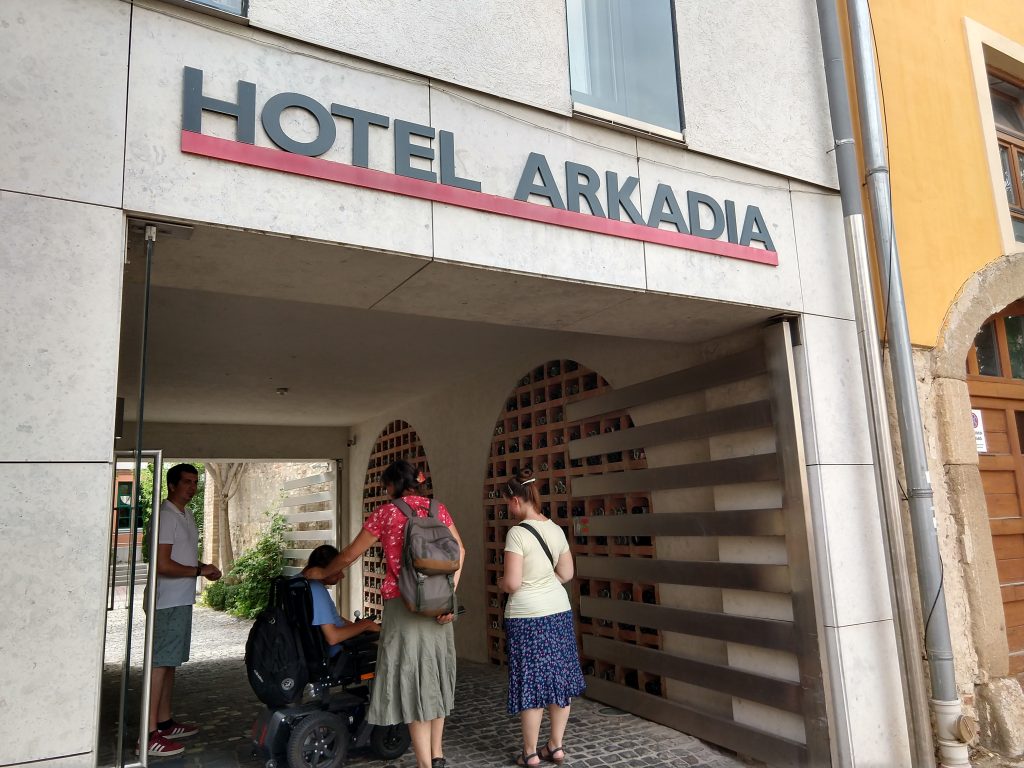 Árkádia Hotel
The Árkádia Hotel is an excellent example of when the owner is already sensitive about the subject, so it is really barrier-free! In our case, the owner's friend is the wheelchairuser architect who designed the accessibility of the hotel. All our accolades to the designer and owner.
This pleasant and comfortable hotel in the historic centre of Pécs, in the heart of the city offers more accessible rooms!
In the main building there are two spacious double rooms, with accessible bath and high beds. The other part of the building can be reached through the courtyard, there is a four-person accessible room. Here in the bathroom you will find an automatic bathtub chair, a real rarity! Moreover, the room has an induction loop and an accessible hanging cabinet.
In the main building there is a restaurant and reception, they are accessible, but the reception desk is quite high. Here in the main building there is a toilet with an accessible pictogram, however this was not considered appropriate by our experts during the excavation.
The elevator in the main building is not equipped with Braille signs and there is no loud announcement. The elevator in the other building is completely accessible, with Braille signs, loud information, and bossed numbers.
Website:
There is no accessible menu. It can be used from a motion damaged point of view. As a visually impaired person, it's basically accessible, a great help to use headlines with a screen reader. However, there are a lot of images that have not received any text captions, making browsing confusing. For visually impaired people, the font size is adjustable.
Getting there:
on foot from the Árkád shopping centre without hindrance in about 10 minutes through Széchenyi Square, the terrain rises somewhat.
By busline 44. the "Boldogságháza" stop on Hunyadi road is right in front of the hotel entrance.
By car you can stop in front of the hotel, or 80 metres from the corner of Széchenyi Square and Mária street in 4 accessible car parks. It is also possible to park accessible in the hotel's inner courtyard, there is one painted space for disabled. Another 6-7 more cars can park here. And again a joyous rarity: a guide lane in the courtyard, a ribbed paving paving leading to the ramp for visually impaired guests leaving the car.
Location
Pécs, Hunyadi János u. 1, 7621