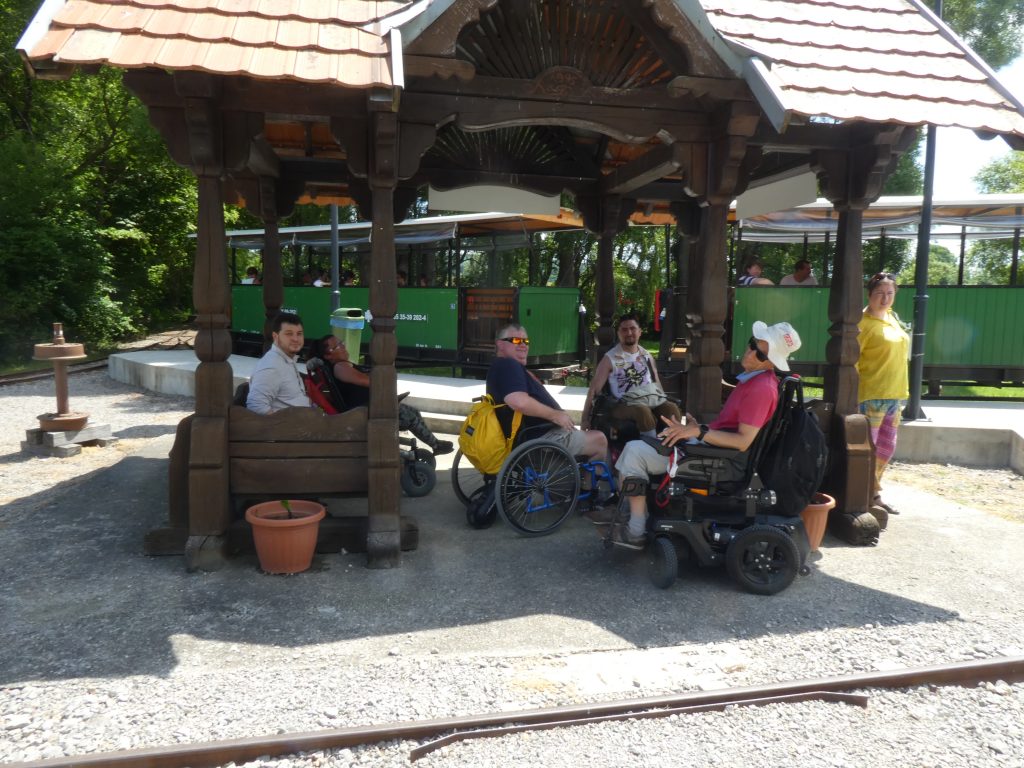 Forest railway Almamellék
From Almamellék you can travel to Sasrét by a forest train, walk there on a concrete road, and have lunch in the Biedermann hunting lodge.
Our tour was also a sensitization training in June 2021, because we  saw again good examples of the "almost accessible" approach.
The forest railway starts from Almamellék train station. In principle the rail is accessible, it has a pictogram, but access to the checkout and the train is possible by crossing a gravel road and rails.
Getting on the train may be on a concrete ramp, but it is quite narrow and has no railings.
One of the carriage is accessible, which means the wider door, as indicated by a wheelchair pictogram. But they didn't think about getting on the train. There is no ramp to solve the half-metre gap between the concrete ramp and the train carriage.
This is offset by the fact that train drivers help in everything with immense kindness, patience and looking for a solution. We had wooden boards laid on the tracks, and they put a fiberboard plank on the train to get in. We were nervous, but we could handle electric wheelchairs. We were able to fit four wheelchairs in the carriage, there's room for two more, maybe three.

The rail deserves several world record adjectives: the loudest forest railway, the most shocking forest railway, and the most twisted tracks titles would all give it a podium finish.
In Sasrét getting off is the same, but here it is easy to cross the tracks.
And than everything is beautiful from here on out, you can walk along the concrete road, it's a beautiful place and very shaded. The hunting lodge terrace and the restaurant are accessible.
Accessible toilet unfortunately there is nothing that is very lacking on a trip.
Nevertheless, the excursion has been categorized as a "great experience for the bravest", and we will mention it a lot with good memories.
Getting there:
By car from Szigetvár on route 67 to Szentlászló, then turn right towards Almamellék. The railway station is located at the very end of the village.
If you go to Sasreét, you have to turn onto the forest road at the junction of route 67 by Terecseny and after about 5 km we will reach the hunting lodge.
By bus: there are 5 buses arriving daily from Szigetvár to Almamellék, you have to get off at "Almamellék felső".
There is no accessible parking at the train station, and no accessible toilets.
Location
Almamellék, Szigetvári járás, Baranya megye, Dél-Dunántúl, Dunántúl, 7934, Magyarország