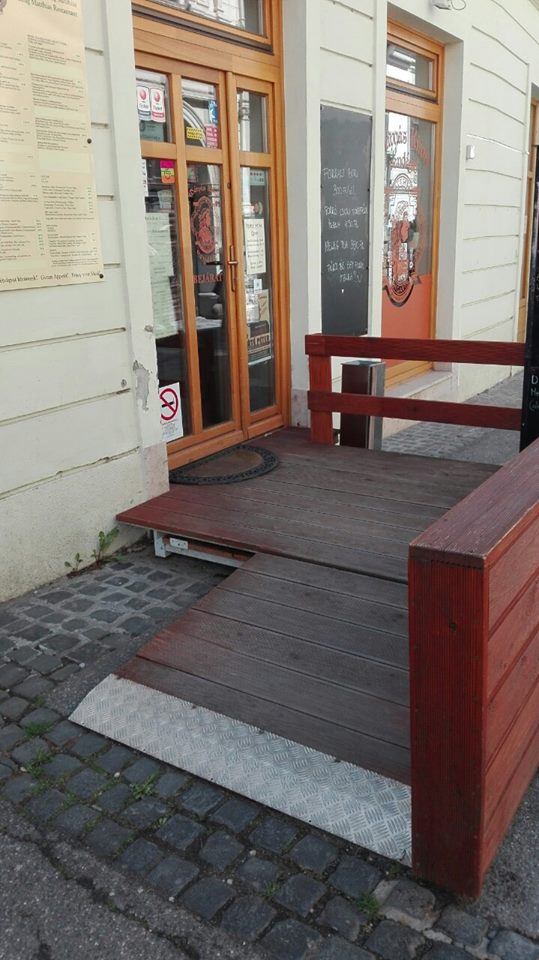 Mátyás Király Vendéglő
[:hu]A good place for menu at noon and traditional restaurant in the second pedestrian street of Pécs, in the charming Ferencesek street. Accessible entrance with permanent ramp, well accessible inside. In summer it has a cozy terrace.  There is no accessible toilet.
Getting there:
protected area by car, the nearest parking is Váradi Antal Street and Jókai Street. There are 1 disabled car park in Jókai Street in front of the Main Post.
by bus to the Árkád mall, then the Irgalmasok Street, Jókai Square, Ferencesek Street route is accessible without hindrance.
[:en]A good place for menu at noon and traditional restaurant in the second pedestrian street of Pécs, in the charming Ferencesek street. Accessible entrance with permanent ramp, well accessible inside. In summer it has a cozy terrace.  There is no accessible toilet.
Getting there:
protected area by car, the nearest parking is Váradi Antal Street and Jókai Street. There are 1 disabled car park in Jókai Street in front of the Main Post.
by bus to the Árkád mall, then the Irgalmasok Street, Jókai Square, Ferencesek Street route is accessible without hindrance.[:]