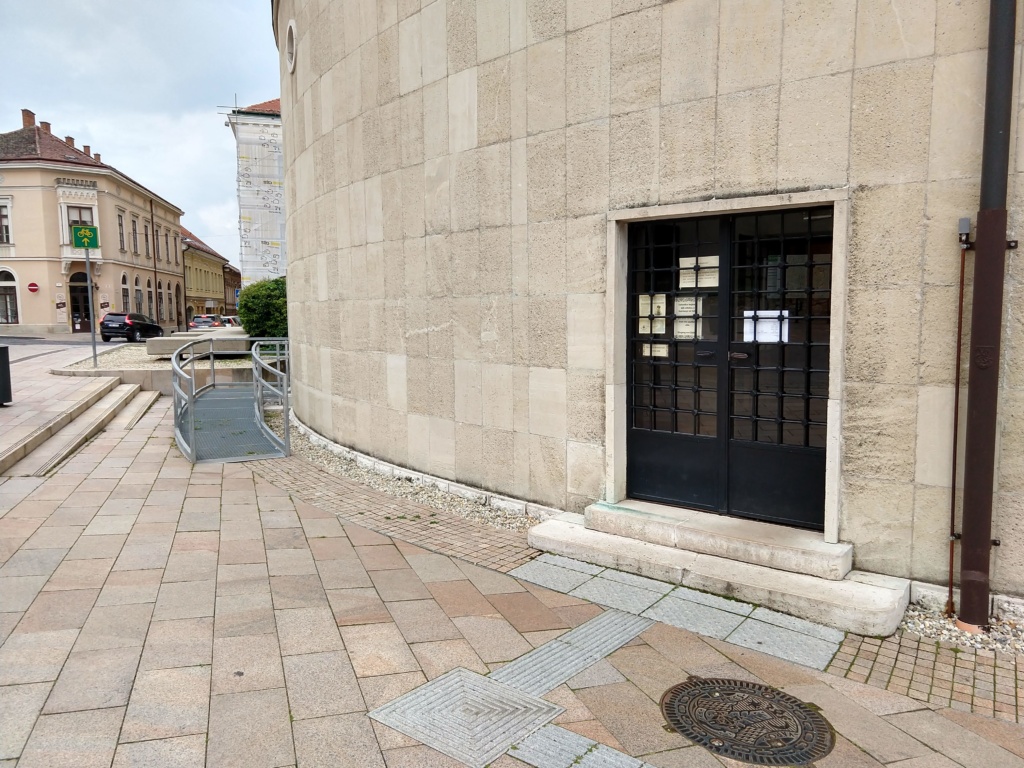 Mosque
The emblematic location of Pécs is the Mosque on the main squere, which is obliquely located in the square and oriented to Mecca.
We had a lengthy consultation with the tourist staff of the Diocese of Pécs, as a result of this, the current situation in the Mosque: broadly accessible.
On the side of the Széchenyi square the the Visitor Centre is not wheelchair accessible, there is a 30 cm staircase. We have a promise on the ramp. On the front door of the Visitor Centre is our sticker and an English sign that the accessible entrance is located on the north side. Here you can read a phone number also, this should be called to open the entrance on the north side, which is well accessible by ramp.
Inside, the sub-church and the crypt can also be reached by a stair elevator. Visually impaired people do not have a guide band, hearing impaired also do not have an induction loop.
At our request, in November 2020. a poster was added to the main tourist entrance from Széchenyi Square, which indicates the barrier-free entrance at the back. And a more visible and meaningful inscription has been added to the barrier-free entrance to the back. However, the phone number here can only be called until 5 p.m. on weekdays. We are still looking for a solution to the possibility of accessing the following time and weekend in the Diocese of Pécs.
Getting there:
by car there is two accessible parking in Széchenyi Square in front of the court and on the street next to, and next to the Nagy Lajos high school.
By bus it is worth getting off at the Árkád mall and going up to Széchenyi Square on Irgalmasok Street. Almost all the buses stop at the Árkád. The route is accessible.