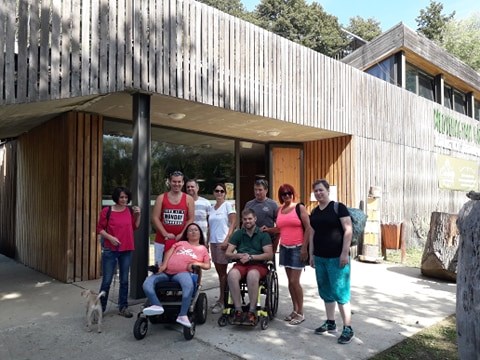 Orfű
One of the country's most popular tourist destinations, this is a big favorite of ours too!
Venue of the annual Barrier-free Tourism Day of which our association is also the organizer (https://akadalymentesnap.hu/?lang=en)
There is four marvelous lakes, the biggest, named Pécsi-tó is accessible around, very nice excursion.
Recommended departure from Medvehagyma visitor centre, (it is fully barrier-free, the toilet too) on the staight lakeside promenade.
On the way to the Aquapark on the west side after the pier of the sailing association runs out of lake walkway, you have to go on the road till to the dam. The traffic is not bad, but there are smaller climbs.
There are two buffets on this side, the first, the Árnyas Büfé is barrier-free, but unfortunately not the toilet. On the terrace it is worth relaxing and eating and drinking a good one.
The panorama from the dam is amazing, after cross it, you can go again on the lakeside promenade on the east side.
Approaching the starting point, the Kayak Buffet is barrier-free again, even the toilet, here you can also refresh, eat and drink.
Additional accessible toilets can be used in the village centre in the municipal building.
Getting there:
by car Orfű from Pécs 16 km, about 20 minutes drive. From Pécs you can get from two directions: through Uránváros city district, towards Daindol. It's the most popular road, the bus also comes by. Or through the city centre on Hunyadi road from the Pauline Church, and across the mountain on Lapisi Road. The roads to Orfű are serpentine, expect that.  You can park in the parking lot on the other side of the road opposite the Medvehagyma Ház.
by bus  from the Coach station Pécs. You can find the schedule here: https://menetrendek.hu/
If you need an accessible bus, please contact the traffic office beforehand at 72/520-154.