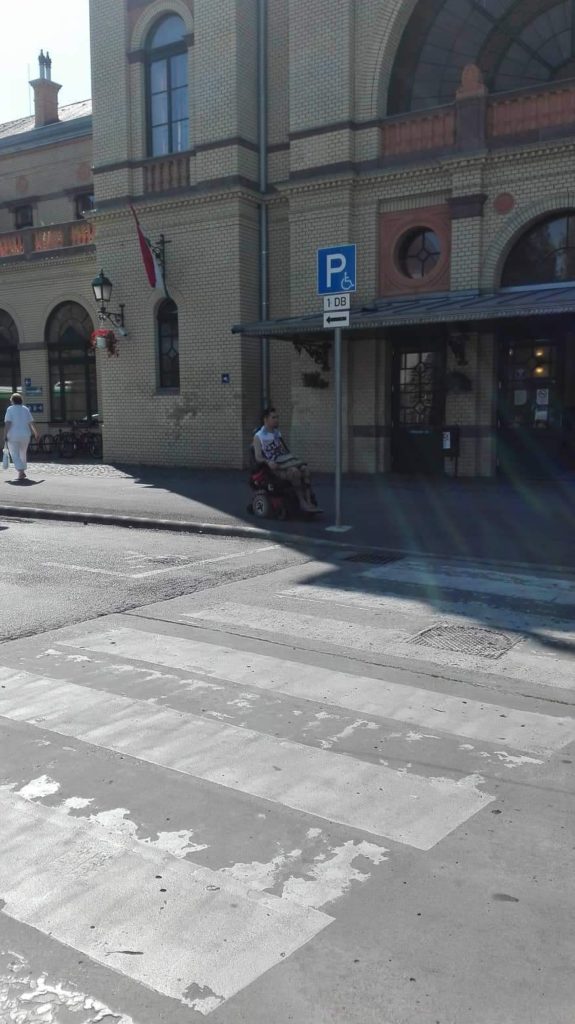 Railway station
The station is barrier-free, but not fully.
Positives: marginal strips for visually impaired people from the entrance to the first platform, and ticket offices, but unfortunately not to the barrier-free toilet. It is needed marginal strips to every platform.
The barrier-free toilet is clearly signposted, the WC room is a bit tight, but well used.
The biggest problem is the front-door: in summer it is open, but it is closed in bad weather and a wheelchair user can't open it independently. As an alternative you have to avoid the building access the platforms.
The difficulties were reported to the railway station management, to which in May 2021 we received the following kind response: in accordance with the short-term objectives of the MÁV Group accessibility strategy, a survey on the accessibility of Pécs station has been carried out, the study plan is currently being reviewed. The proposal includes automating the main entrance, expanding the accessible toilet and creating a complete tactile and contrasting signaling system on the platform coverings. In addition, a "station assistance call point" is being placed in the passenger hall.
We will be notified of the changes.
Getting there:
by bus most bus lines affect the main train station, many depart from here
by car there is a barrier-free parking space next to the main entrance of the railway station, but the markings are worn.