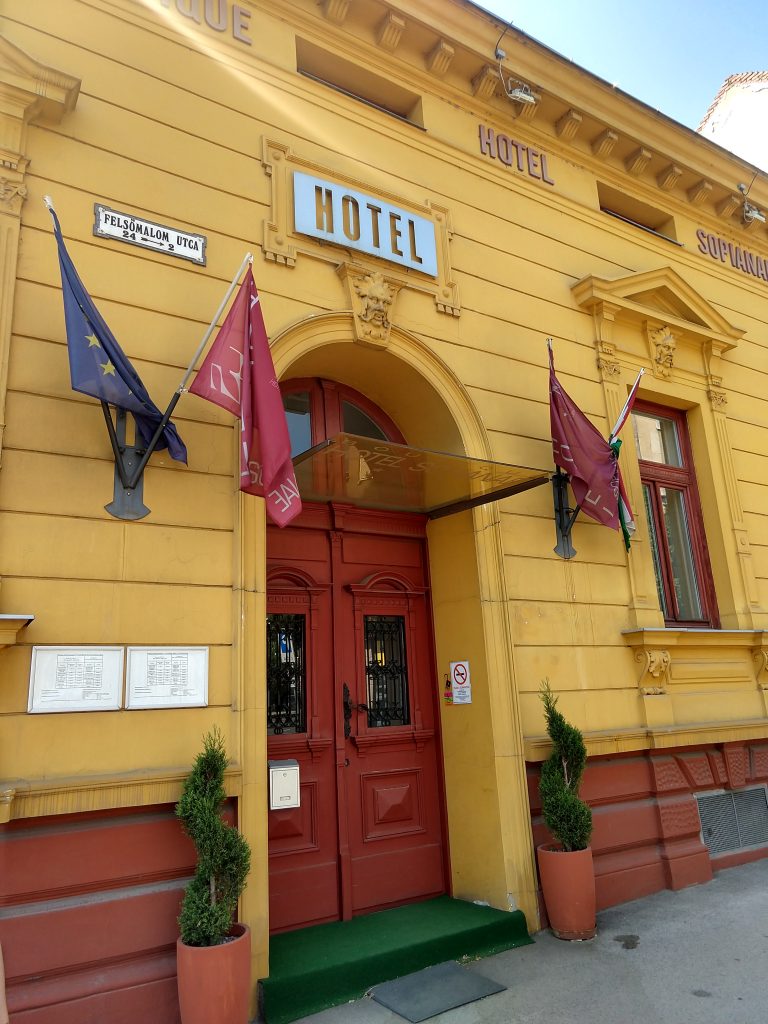 Sopianae Hotel
Boutique Hotel Sopianae is what everyone notices when they arrive by car as it is located on one of the main roads to Pécs Route 6, at the big intersection of Rákóczi Street, in the middle of the city center. Nevertheless of course it is not noisy, this was taken care of by the owners.
The beautiful old building can be accessed barrierfree via the driveway at Rákóczi út 67.
The parking lot is smooth, paved with stone. A 10 meter ramp with comfortable inclination leads from the parking lot to the front door, there is a bell on the wall accessible from a wheelchair. The staff arrives immediately.
From here we get to the lobby to the level of reception, here is the elevator. Unfortunately this is only partially accessible, because visually impaired people do not have Braille subtitles and loudspeakers.
They have two accessible rooms for two, which can be opened together. Both have a well-used accessible WC and shower. We missed one thing: the alarm bell.
The restaurant is one level down, you can take an elevator. There is also an accessible toilet, massage room, sauna and gym on this level - unfortunately these are not accessible.
There is no induction loop in the hotel, but they can help people with hearing impairments.
Getting there:
By bus from the Árkád and Konzum bus stops you can reach it in a few minutes without hindrance on foot, but with some help. Help is needed for the benches at some intersection.
By car  in front of the hotel there is a painted parking lot with disabled signs on Rákóczi street. Additional parking is available at the gate entrance at Rákóczi út 67., there are 8 parking spaces in the closed courtyard.
Location
7626 Pécs, Felsőmalom u. 24.