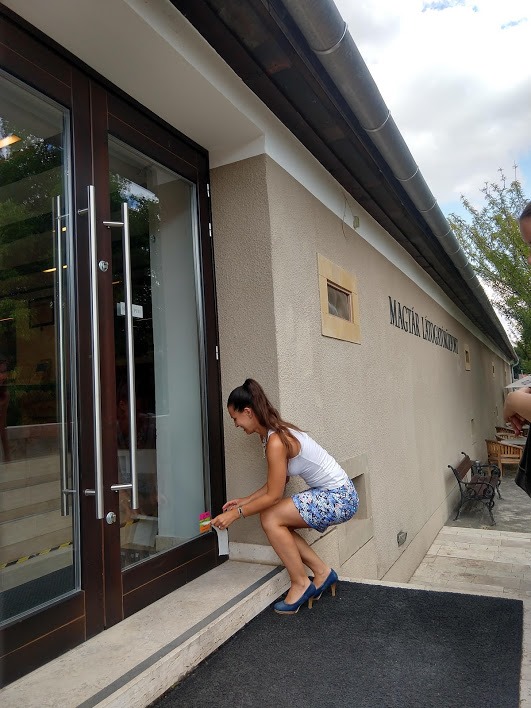 Magtár
Pleasant café and communal space, a real tourist delicacy!
It is an old building behind the Cathedral, built in the 18th century and, as the name implies, was originally used to store grain. The building, which currently has four floors, performs a multifunctional function, such as a tourist information point, a venue for conferences, community events, as well as a venue for quality hospitality and wine tastings.
It's a good example of accessibility in old buildings, but some help is needed.
You can enter the Magtár (Granary) by wheelchair on the south side, through the gate below. By the gate must ring, next to it there is a sign with a telephone number that rings inside the reception. Help comes to the gate, so we got in by wheelchair through the cellar with the exhibition space. There is a stair lift at the entrance, which, fortunately, has always worked so far.
Elevator in the building is equipped with Braille and loud underwriting, making it completely accessible for visually impaired people.
Upstairs the area is spacious with accessible toilets.
There is also an extra floor, where the great hall reserved for performances and concerts is located, you can also get there without barrier.
The inner, covered part of the café can also be approached. The café is comfortable, between tables corridors, plenty of room for a wheelchair.
Unfortunately, the terrace is not 100% barrier-free, although there is a fantastic view of the Cathedral from here.You can get out here only with some help, the entrance, which is intended to be accessible, is not really usable, it is advisable to come out to the terrace through the interior. On the terrace there are level differences with a height of 2 cm, with them you need to be careful.
Getting there:
by bus buslines 30, 130 from the Árkád mall get off at the Csalogány espresso  at "Kodály Zoltán Street" stop. From here you can go through the 2 recessed zebras of the roundabout without hindrance, and about 50 meters along the sidewalk to the barrier. You can walk through the barrier, you don't have to open it, there is enough space for a wheelchair.
On foot from the Sétatér to the Magtár. The square in front of the Cathedral is an accessible paved road.
by car, parking the private car park of the bishopric is 20 metres from the entrance to the Magtár, there's place for about 30 cars. There is no disabled parking lot painted.