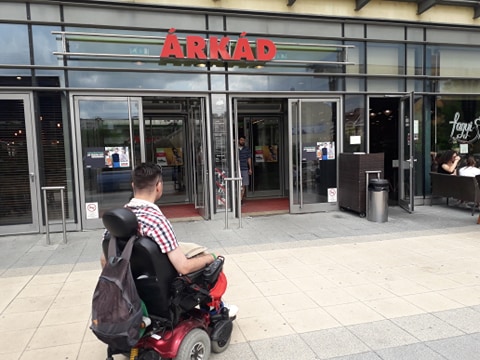 Árkád
Basically barrier-free, but certain details present difficulties disabled, baby car users, elderly and injured people.
Barrier-free: each floor, corridor, store accessible with a wheelchair, well accessible and spacious building, there are no big climbs, stairs. For the visually impaired is some help a different color indicated cover. Lift, barrier-free escalator, information display by the escalator, barrier-free toilet.
Not barrier-free: the elevator and the toilet signs are bad, barrier-free dressing rooms only in Cropp, Reserved és H&M shops. No tactile signs for visually impaired, no sound indicator and Braille script in the lift.
The signs have been replaced in many places at our request, they have improved their visibility,  thank you for it!
However, the biggest problem is the front doors. None of the 5 entrances are photocells, so it is impossible to open them independently, and not only does it bother people with disabilities, but it is also difficult for the elderly, with baby cars and those arriving with bags to get in. In addition it is not hygienic. The consultation with management has not led to result, their attitude is not barrier-free what makes us sad.
Website:
It does not have an accessible menu. As a motion impaired, however, it is well suited. As visually impaired it shall not be declared accessible. The main menus can be opened, but you cannot read information about stores with a screen reader. The images are not captioned.
Getting there:
by bus this is a city's transport hub, almost all buses stop here, the bus stop is also called Árkád.
by car you can park comfortably in the roof garage of the Árkád. Turning left after the drive-up, there are 8-10 accessible parking lots per entrance at the two rear entrances. Some of its markings are heavily worn off. According to the information of the Parking Office, people with disabilities do not have to pay for parking, they have to indicate this in the Office on the roof!
Location
Bajcsy-Zsilinszky u. 11/1,