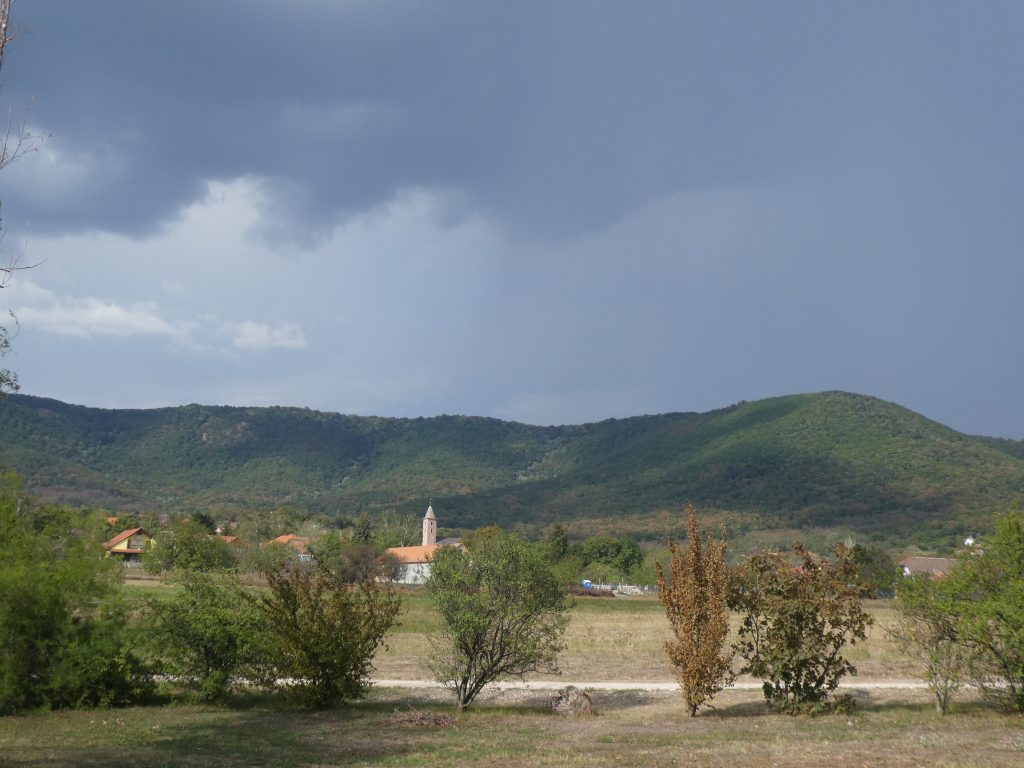 Cserkút
Cserkút is a beautiful little village at the foot of Jakab-hegy (Jakab-hill), in the immediate vicinity of Pécs. It is worth taking a walk here just for the sight, as wherever we go the Mecsek Mountains surround us, providing a beautiful backdrop for the excursion. There are also plenty of attractions in the village and you can walk around barrier-free. Our own association-tour was led by our member who lives there, so we recommend this route for a tour. But it is safe to walk anywhere in the small village, we will not get lost. :)
Our small team started at the Malom és Műhelyház Cserkúton (Mill and workshop house in Cserkút), briefly from MaCsek, the description of which can also be found here in our database in the category "Near Pécs". In MaCsek we watched a great puppet show by Zsuzsa Pámpillás Szabó, waited until the rain stopped, and then set off on our way.
Throughout the village you can roll and walk along a comfortable, wide concrete road, free from holes and ascents. The sidewalks are also new, but in some places stairs at the gate entrances can cause surprises. On the way you can see beautiful houses, pass by a playground, and then arrive at the biggest attraction of the village, the Church of St. John the Baptist of the Árpád era.
Rarely can you see such an old church in our country, which has been beautifully renovated here and still operates today, masses are also held in it. The frescoes inside are special, most notably their way of depiction, for example, you can see St. George without a dragon. The church can also be walked around by wheelchair, but unfortunately, when entering, an old and beautiful, but very high staircase stands in our way. Fortunately, the church caretakers have thought about this problem and the church has a mobile ramp, which is also installed on request during visitation hours for liturgical events and organized church visits. (the church can be visited daily from 9.00 to 11.00 and from 14.00 to 16.00, on Fridays from 14.00 to 16.00, on Saturdays and Sundays from 9.00 to 11.00. For an organized church visit you need to contact István Németh on the phone number: +36 30 471 2517, for masses and liturgies József Kávé: +36 30 373 5739)
Access to the cemetery next to the church is accessible via a barrier-free long ramp, and the cemetery is also accessible.
From here it is worth walking through the village to the small lake, also on a concrete road or paved sidewalk, which at the end leads to a gravel road in front of the lake. If you're chased by the rain - like us - you can shorten it to the lake, but this is only recommended for braver electric wheelchair users.
Approaching the lake, you can marvel at the Mary's Garden, the road to it is hard-rammed gravel, so for us with an electric wheelchair it was not a problem. The Mary's Garden is completely accessible, with a slight incline. It is worth spending time here, because a beautiful view of the mountain and the small lake opens up to us from here. The Mary's Garden lies on a side branch of the Mary pilgrimage route, hence its name. There is a drinking fountain in the Mary's Garden.
From here a more bumpy gravel road leads to the lake, so it is recommended to roll alongside the road on hard grassy terrain instead. With an electric chair there was no difficulty, with a manual chair we recommend the grassy terrain and with help.
The small fishing lake is a very pleasant resting place, you can also grill with a small team here, if rain comes or heat, covered space is available. You can also go fishing with a daily ticket. You can not bathe in the lake. There is also a drinking fountain at the fishguard house.
Back to the village it is worth passing through the Mary's Garden, at the entrance of which there is an accessible parking lot, so those who arrive by car can also park here. Unfortunately, between the village's comfortable concrete road again and the parking lot missed a 20-meter road section for some reason, which is very bumpy, gravelly, even with an electric wheelchair. However, arriving at the concrete road we found ourselves again at MaCsek in a few minutes, where we made up for the loss of energy. If you would like to come here, it is worthwhile to find out in advance and log in: cserkutimacsek.hu
Getting there:
By car: Cserkút is 5 km from Pécs, on route 6 in the direction of Szigetvár between 204-205 km turn right towards the mountain onto the asphalt road. You can park in front of the municipality, there is also a marked accessible parking lot here. Additional accessible parking is located at The Mary's Garden.
By bus with local bus number 26, 28 and 29 to "Cserkút-tető", from there on foot on a concrete road about 1,5 km. However, by long-distance bus you can get to the area around the playground in the middle of the village. Long-distance buses also touching Cserkút depart from the long-distance bus station in Pécs about every two hours.
Location
Cserkút, Pécsi járás, Baranya megye, Dél-Dunántúl, Dunántúl, Magyarország