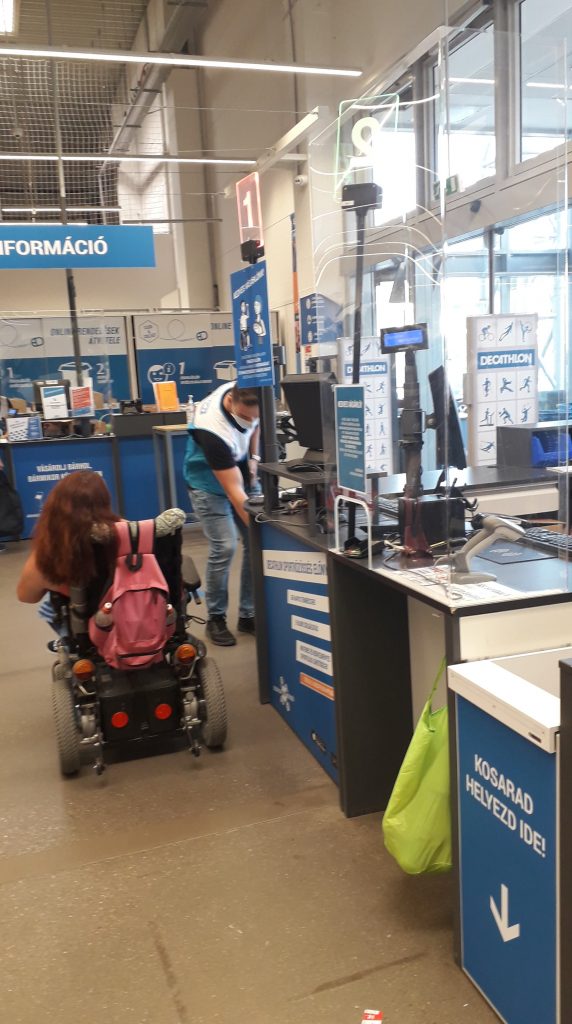 Decathlon Pécs Sports shop
Decathlon Pécs has emerged as one of our main favorites in the discovery of our sticker project!
It is not only physically exemplary, but the approach of the French-based multinational department store chain could also be taught. We personally also received maximum attention from the operations manager Rácz Benjámin Álmos reviewing the store in Pécs.
Everything in the store is accessible, there are extra wide distances between the lines, the product information labels have been placed at medium height so that they can be read from a wheelchair, price and product informatons consoles are also at this height for a similar reason.
They also have a separate wheelchair shopping cart, although currently only 1pc.
There is an accessible fitting room where special care is taken to ensure that it is always free for wheelchair users.
The perfect accessible toilet is located in the women's toilet, but plans to move it separately.
Guide bars are not in the store for visually impaired people, but, as our fellow disabled man has said, she wouldn't come here to shop alone. And the assistance dog is welcome here.
For hearing impaired everything can be read on the detailed product descriptions, can be queried on the console, and clear numbers at the pay-desks indicates in red and green which works.
At pay-desk number 1. a large sign indicates that this desk is primarily for the disabled and strollers, and the desk is so designed.
Like all 24 stores in Hungary, there is a "quiet opening hours" in Pécs on the first Monday of each month from 16.00 to 18.00 for autistic shoppers. In this case all the annoying lights and sound effects are turned off, there is no music, there is little light, the loudspeaker does not speak and customers are distracted.
Decathlon has several team mate with disabilities across the country, as well as someone who understands sign language. They do not currently have such colleagues in Pécs, but they do not discriminate at the recruitment. Expert colleagues work In the various sports departments who also pay special attention to the needs of customers with disabilities. All their colleagues received and receive sensitization training in the store in Pécs( (also). They also have a separate scenario for helping the disabled to escape in any emergency. So here they thought of everything - they are perfectly accessible in their minds as well!
New from February 2021:
the road to the cash desks has been widened, so now two wheelchair users can fit side by side.
The loudspeaker is already in English too, and information about closing and opening the store is also shared loudly with the visually impaired.
The irons protruding at the end of the rows were taken down to prevent any damage.
Because of the Covid outbreak, masks could be labeled for the hearing impaired, indicating that they do not understand the people who speak to them when wearing the mask because they cannot see their mouths. Decathlon staff themselves will remove the mask if they speak to a hearing impaired (keeping sufficient distance).
In spring a digital parcel point is expected if someone avoids personal contact, and the floor will be renovated due to possible gaps. From March 2021 help with the purchase of visually impaired guests from the entrance to the cash-desk was introduced in all their stores.
Getting there: since the Decathlon store on the outskirts of the city is, especially worth getting there by car on route 6th to Szigetvár. In front of the entrance there are two disabled parking, the entrance is completely accessible, the doors are photo-cell.
By bus: bus lines 26 and 27 to the Bolgár köz bus stop and roll down a small street, then cross 3 accessible zebra crossings and also on accessible sidewalks to get to the store. This takes about 5-7 minutes. There are also guide bars for visually impaired people around the store. You can also catch buses 21, 121, 4, 4Y, but you will have to land at the Uránváros bus station, from where you can also reach the store on accessible zebras and sidewalks. It's a little longer, it could take 10 to 12 minutes.