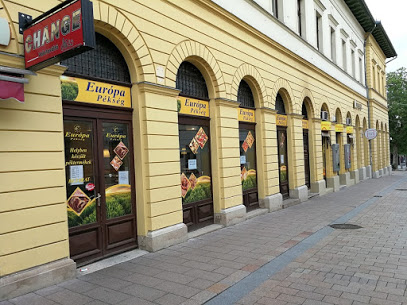 Europa Bakery
It is the only Europa Bakery in Pécs which is accessible.
It's in a frequented area downtown, almost everyone comes by.
One of its two entrances is accessible, the other is not.
The shop is spacious inside with access to wheelchairs and strollers.
Unfortunately for visualy imparired it is not accessible inside, there are no guide lanes and Braille syllables.
You can see the selection, the glass display case is at a sitting height, the payment is also solved from this point of view. However, it is not possible to eat there from a wheelchair, because there is only a standing bar.
Getting there:
by bus you have to get off at the Árkád mall bus stop and you can get accessible to the bakery in 5 minutes.
By car you can park in the underground garage on Kossuth Square or in the roof parking of the Árkád mall, or there are two accessible parking spaces on Perczel Street.