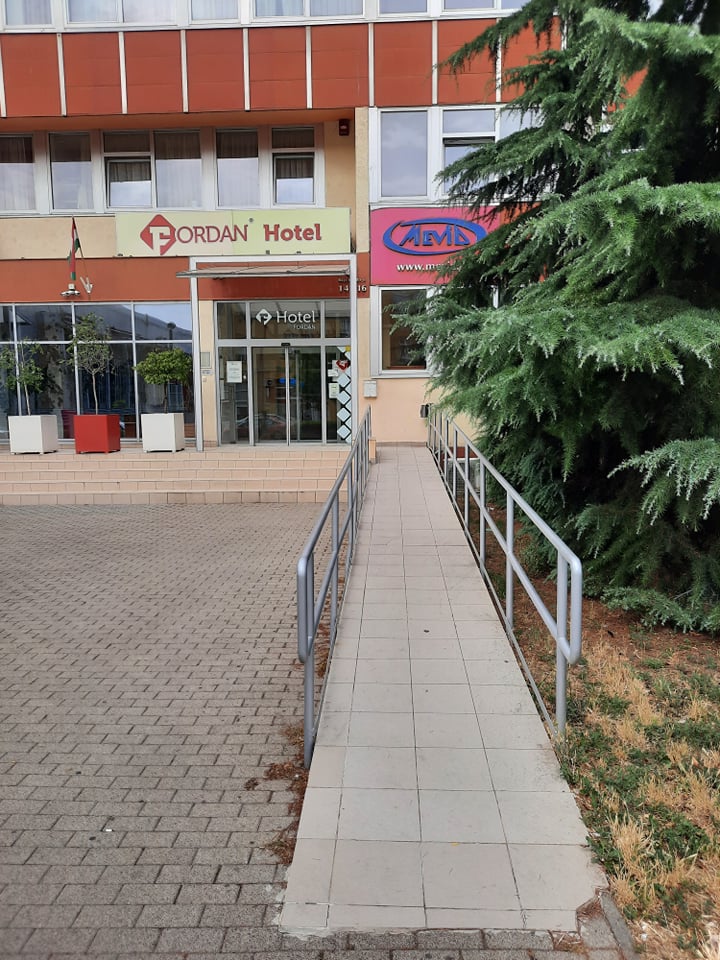 Fordan Hotel
The Fordan Hotel has one accessible room, the accessibility can be assessed as medium overall, because unfortunately some important things are missing.
The hotel is located opposite the market hall and long-distance bus station, it is close to the city centre on foot.
Its entrance is accessible with a comfortable steep ramp and handrail.The front door and the doors in the entertainment space are joyfully automatic opening, with wheelchair-accessible doorbells next to the door.
Unfortunately for visually impaired people lack tactile signals outside and in the interior, and for hearing impaired people do not have an induction loop.
The Hotel has a total of 30 rooms, 1 of which are completely accessible.
There is an elevator leading up to the rooms, which unfortunately has no loud announcements or Braille signs.
The ground floor entertainment and dining area lacks the ramp leading to the dining room, there is no accessible toilet here.
Getting there:
by bus 4; 4Y, 104; 104A 104E takes you right in front of the hotel, the bus stop called Vásárcsarnok. For visually impaired people it may be useful information that opposite in the bus stop is a smart board, which informs them loudly about the arrival of buses.
The Hotel does not have an accessible parking lot, and zebras and sidewalks can not be said accessible.
Location
Pécs, Bajcsy-Zsilinszky Endre u. 14-16.