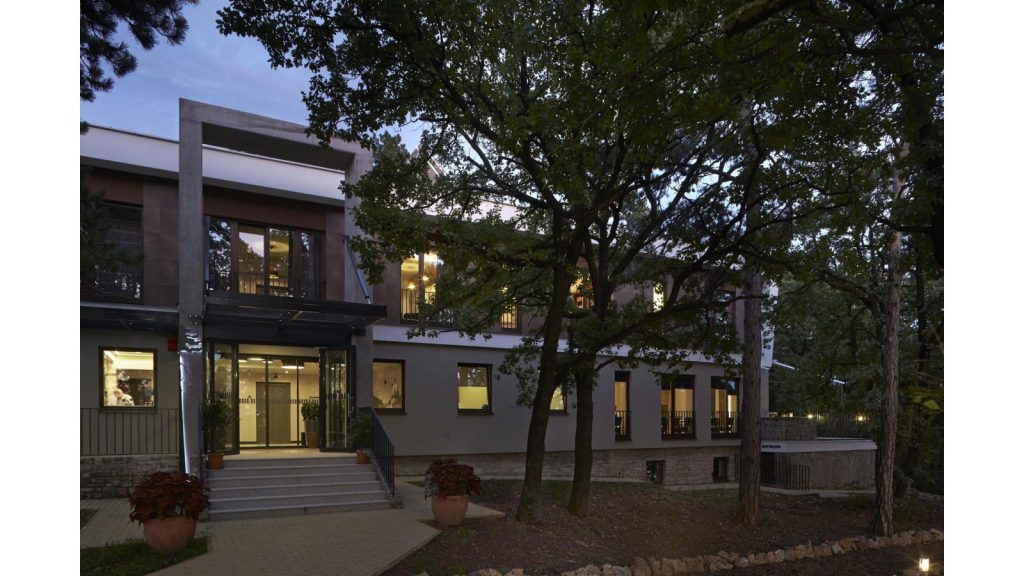 Hotel Therapia Superior
This very pleasant, modern hotel is located on Mecsek Hill, in the heart of the Mecsek Forest, in a beautiful calm, green environment, yet it is easy to reach. A few minutes walk from here is the Mandulás leisure park, the Zoo, the TV tower. It's a place where you can forget the weekdays and you can relax. As you can see in the name, a number of recreational and health services are also offered on its behalf.
The accessibility of the hotel is also very commendable, finally once again a hotel with not only one accessible room can be found.
The front door is a photocell to make it easier to get in. Entering there is a lounge on the ground floor and a reception area. The reception is also a drink bar and café. The height of the reception desk is adequate, it is easily accessible from a wheelchair, and there is an induction loop for hearing-impaired guests.
There are two accessible rooms on the ground floor, access is possible with a magnetic card. Upstairs is an additional accessible room, an elevator will help you get there.
The elevator is accessible from the lounge, with Braille written on the buttons, and once again a joyful rarity is that there is an acoustic signal provided for each floor.
The room number can also be read in Braille in addition to the door of the rooms.
The rooms have two elevated beds, which can be accessed from several sides. The interior is spacious.
In the bathroom it is easy to turn around with a wheelchair, in the toilet and shower handrails help you change positions. At an accessible distance and height there is an alarm bell near the shower and toilet.
There is also a spacious accessible toilet on the ground floor, but this can be used mainly by those arriving for health and recreation services.
The restaurant can accommodate up to 24 people and has a cosy design. The terrace from the restaurant offers beautiful views of nature. This room also has an induction loop to facilitate communication hearing-impaired guests.
During the construction of the hotel great attention was paid to the restoration and maintenance of the environmental ecosystem, planting trees, trying not to disturb the order of nature. This way guests can enjoy a calm, nice area.
Getting there:
by bus: by 34, or 35 accessible buses from the Zsolnay statue or the Main Railway Station, get off at the "Hotel Kikelet" stop. The hotel is 100 metres away.
By car: free parking in the hotel's courtyard, one particularly accessible parking space is maintained by the hotel, which is located directly opposite the entrance ramp.
Location
7635 Pécs, Málics Ottó út 1/3. (entrance from Fenyves sor)