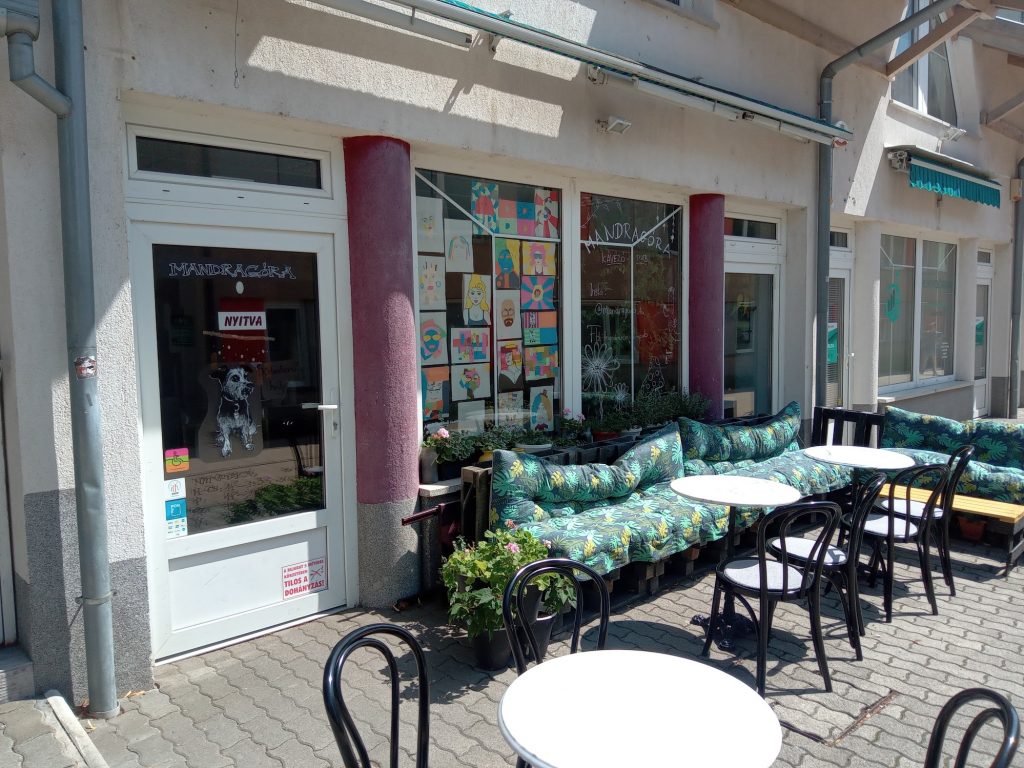 Mandragóra Pub
Mandragóra Café and Pub awaits its guests in one of the most central parts of Pécs' "Garden City" suburb, next to the Nevelési Központ (Education Center), in a calm, green environment.
Despite its relatively small dimensions, the owners created a rather versatile catering establishment. Their offer includes healthy sandwiches, homemade syrups, fruit cocktails, ice creams, quality coffees and alcoholic beverages. They use natural, local ingredients and visibly put sustainability at the forefront.
Talented artists are welcome. They offer performances for young musicians, writers and poets, while others can display their drawings and paintings on the walls of Mandragora. In addition to being rentable for private events, the café is also dog-friendly.
Several of our wheelchair user members visit the pub regularly and, apart from the lack of accessible toilets, they consider the place accessible and welcome to go there. The entrance is wheelchair accessible. In the inner room 3-4 tables are placed, wheelchair can be accommodated. There is a small terrace in front of the pub, also wheelchair accessible. There is no barrier-free toilet.
There is no guide bar or braille signs for the visually impaired, so they can only rely on the - otherwise very open and helpful - service staff and their attendants. From an accessibility point of view, people with disabilities visiting here have to compromise if they want to eat in Mandragóra, but it is definitely worth trying.
The café does not have its own website, you can find it on Facebook and Instagram under the name Mandragóra Pub.
Getting there:
by bus, take bus lines 3, 6, 7, 23Y, 24 from the city centre and get off at the "Csontváry utca" stop. From there walk 2 minutes along the Csontváry Promenade to the entrance of the pub. The promenade is barrier-free and has guide lanes.
by car, you can park your car without obstacles at the entrance of the Kertváros clinic. There are 2 accessible parking spaces 100 metres from the pub. From the car to the pub you can get from it unhindered on a ramp with a suitable inclination, wide paved pavements.
Location
7632 Pécs, Uitz Béla u. 11.