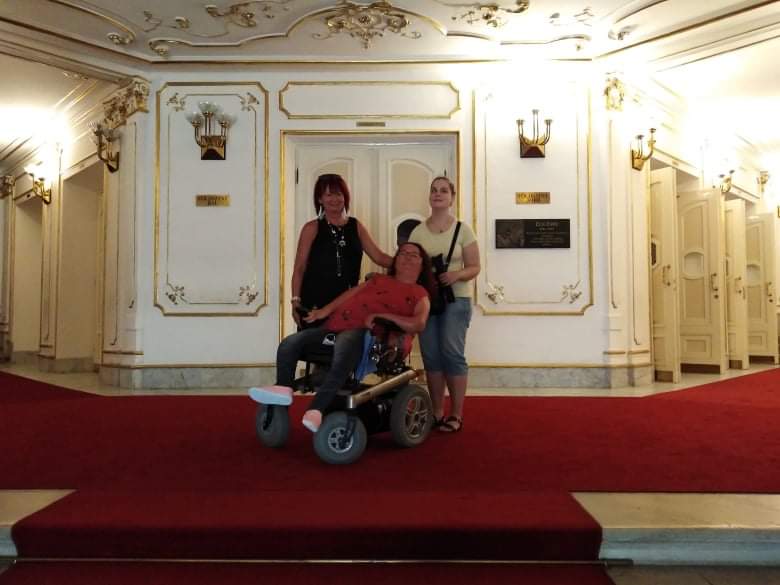 Theatre, National and Chamber
The National and Chamber Theatre is located in a wonderful building in the heart of the city center. Both are accessible, but not perfect at all.
It is a complex, the National Theatre can be accessed through the Chamber Theatre in a wheelchair, without assistance and hindrance.
The National Theatre can be reached by the elevator in the Chamber theatre. The corridors are slightly rambling, the flow leading to the lodges leads to a slightly higher threshold, but it is solvable.
If you choose the lower auditorium, you will have to cope with a fairly steep aluminium ramp, which is the way down to the ground floor auditorium at the end of the foylos. The ramp is shaky, only with good will it is accessible, so you definitely need help.
The National Theatre's auditorium below seats 4-5 wheelchair sits. At this level you will also find a truly completely accessible restroom. There is no separate accessible toilet in the Chamber theatre.
As a visually impaired you need an assistent to navigate within the theatre. No guide lane is built anywhere in the building, but the staff's attitude to people with disabilities is excellent. Anyone at the checkout indicates that they need help, they can always provide a personal helper.
There is no induction loop for the hearing impaired, but narrated theatre performances are also held at the National Theatre of Pécs for visually and hearing-impaired people in cooperation with the 90 Decibel Project with the help of professional narrators.
We couldn't find an accessible menu item on the theater's website. From a disabled point of view however, it is well suited. But from a visually impaired point of view, the constant popping up of offers makes the site useless. Unfortunately, the images are not captioned in any way.
Getting there:
by bus from the Árkád mall you can conveniently reach the theatre in 15 minutes on foot and without barrier. The space in front of the theater is rather thoughtlessly paved with large stones, so it's quite bumpy. Help is needed here too. There is no guide lane for visually impaired people.
by car the nearest accessible car park is at the corner of Fürdő Street and Tímár Street.