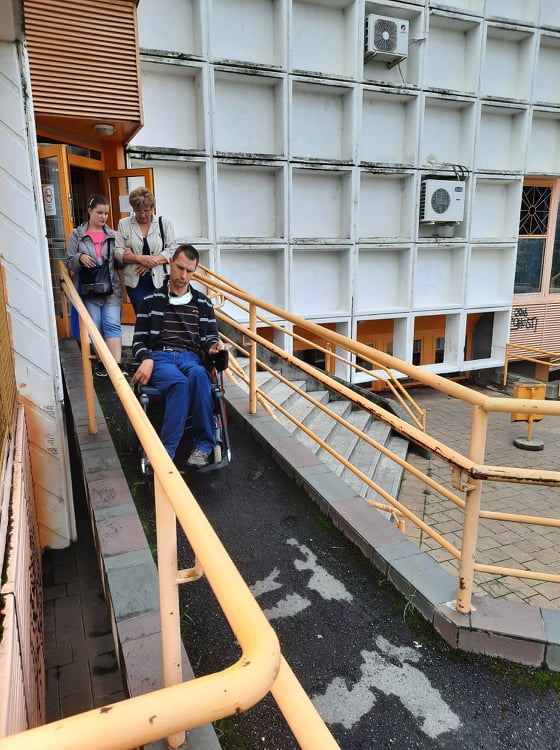 Nevelési központ
The Nevelési Központ is a complex sports and cultural institution in the "Kertváros" district of Pécs, with kindergartens, schools, dormitories, libraries, theatre halls, restaurants and sports units.
It is an important institutional system for the inhabitants of the district, but for the whole of Pécs.
Unfortunately accessibility is only available for people with disabilities in their motion, in other respects the complex is not accessible.
The central building can be accessed on the side by a concrete ramp, which is a few meters from the disabled parking lot. We reach the first floor on the ramp, where there is an accessible theatre room and an accessible toilet.
From here you can take the elevator to the aula or up to the library.
The aula has a reception area, a buffet and a communal space. There is a step difference between the reception and the communal space, which was solved by a railing lift.
The library on the second floor is spacious and wheelchair-accessible.
The sports unit is also accessible, there is an elevator between the levels.
Here, the problem of the accessible toilet is that because of the changing table the space is quite cramped. In the gym, the PTE PEAC para boccia classes are practiced.
There are also small gyms, also accessible, but the swimming pool is not accessible.
Web site: Information about accessibility is not available.
A diverse yet well-structured website, where menu options are selectable, information is organized with headings, and the website is mostly user-friendly.
Getting there:
by buses 1, 3, 6, 7, 7Y, 22, 23, 23Y, 24, 55, 60, 60A, 103, 121, 130, 130A. Get off at "Nevelési Központ" stop. From here a few minutes accessible to the complex.
by car there are two disabled parking lots on Csontváry Street.
Location
Apáczai Csere János körtér