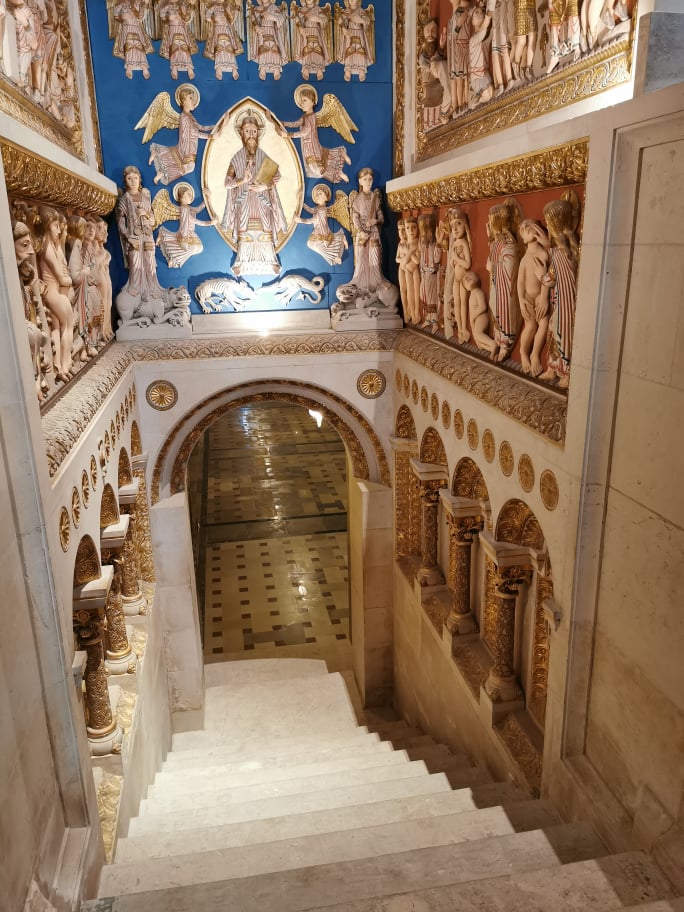 Székesegyház/Cathedral
The renovation of the most famous sights of Pécs was completed in December 2020, but due to the Covid outbreak we had the opportunity to explore the changes for the first time in May 2021. The most important thing to know is that the main entrance is located on the west side, not on the door facing St. István square! This western entrance with a permanent stone ramp is accessible.
The current renovation consisted of painting, polishing the floors, replacing the benches, renovating frescoes, archaeological excavation, renovating the chapels.
The church interior is flat, spacious and comfortable. Among the two chapels on the north side the Heart of Jesus Chapel can be visited without barriers, it opens from the church interior. The Chapel of Mary next to it is currently a depot and cannot be visited. On the south side the Corpus Christi can be visited for reverence, it also opens from the church interior but the door is not accessible, it can only be used with help.
There are stairs leading to the sanctuary and down to the sub-church, which are not accessible.
There are no guidelines for visually impaired anywhere, nor is it a guide book written by Braille. For hearing impaired  there are only descriptions in some places.
The Cathedral closes for tourists at 17.00, so for the evening Mass access must already be discussed with the sekresty. We have been promised that, like at the Mosque, a telephone number will be issued to visitors with disabilities.
There is no accessible toilet in the Cathedral, the nearest accessible WC is in  Magtár in the immediate vicinity of the Cathedral.
Getting there:
on foot through the Sétatér square, it is accessible but slightly steep.
By bus take the bus number 30 or 130 to the Kodály Zoltán stop. The pavement is accessible, 50 metres to the top entrance barrier, just avoid it.
By car, turn from the Aradi vértanúk útja and press the bell next to the barrier. The bell is at an accessible height. There is no accessible parking, but there is space for about 30 cars in the parking lot between the Magtár and the Cathedral.