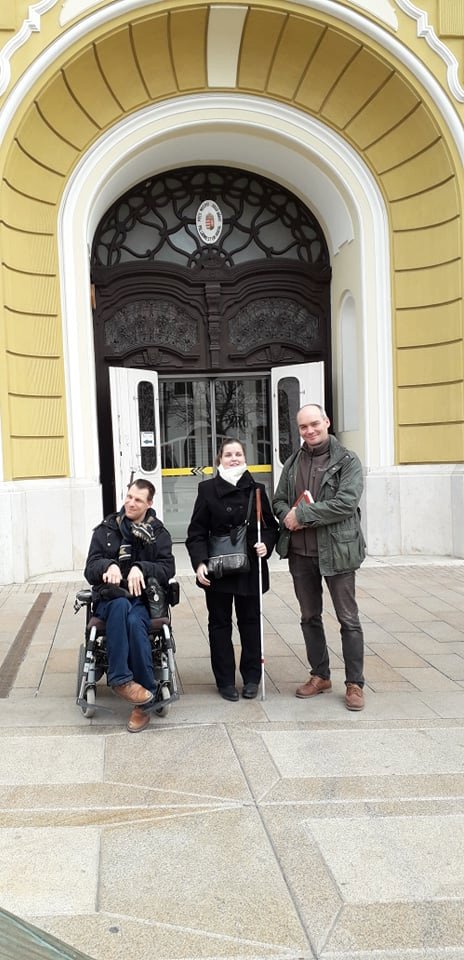 Town Hall
As part of our sticker project, we also walked around this very important and beautiful building and we are saddened. Although the staff at the Town Hall are very helpful, unfortunately the accessibility is very incomplete.
Entering the gate we were happy to receive an automatic door, but immediately a two-winged wooden door was on its way, which is not automatic and therefore not accessible.
There is a ramp built for the flight but it's extremely steep, it can only be used with serious help.
The 3 levels can be reached by a very old elevator, which is very difficult to handle.
There's no accessible toilet.
There's no driver's lane anywhere in the building for visually impaired people.
The elevator contains Braille writing, but there is no loud speaker.
Elsewhere, there are no Braille inscriptions.
There is no induction loop for hearing impaired people.
At the reception the staff were very helpful, but they did not receive a training and sensitisation of people with disabilities.
The tower of the Town Hall has recently become open to the public, from which you can not only enjoy amazing views, but you can also admire two museums for free. It is also not possible to get to the tower without obstacles.
We have learned that local government meetings are regularly run by people with disabilities, so accessibility by an expert would be an urgent task.
We have informed the city hall officials about our comments several times, unfortunately, nothing has changed until the end of 2022.
Getting there:
by car there are 3 accessible parking spaces on the street next to The Town Hall (Perczel M.).
By bus from the Árkád shopping centre is accessible on foot on Irgalmasok Street, with a small climb.