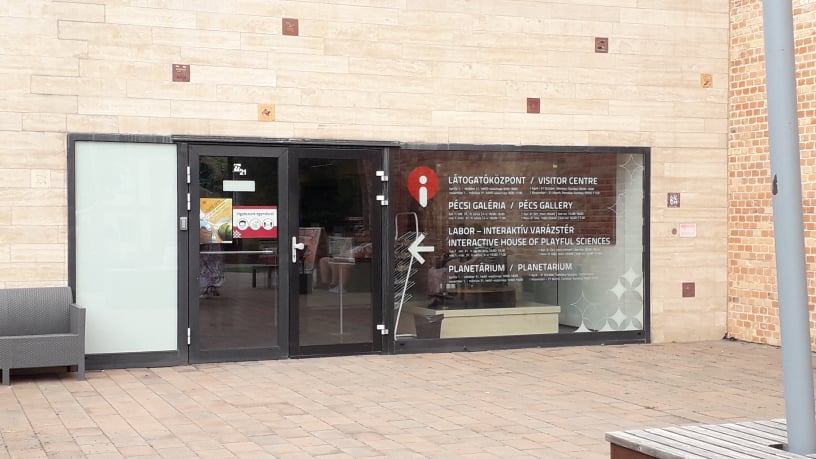 Zsolnay Cultural Quarter
The Zsolnay Cultural Quarter is a must-see tourist attraction in Pécs, it was declared as a hungarikum in 2014 and there is not much like it to see in the world!
The cultural district was built on 5 hectares of the former Zsolnay porcelain factory. The beautiful park features monumental buildings, special exhibitions, cafes, restaurants, shops, integrated (!) playgrounds, concert halls, planetariums, puppet theatres.
All this can be visited without barrier, many things are particularly exemplary, but unfortunately there are some shortcomings here too.
During our exploration, we found that most of the comments we made during our previous visit were incorporated, for which we thank you very much.
All three entrances are barrier-free and there are a total of 16 accessible parking lots throughout the district. They also provide accessible information on their website, in a place that is a little difficult to find on the Hungarian-language site, at the bottom in the Accessible submenu of the Information menu. However, in the English version of the website there is a separate Barrier-free menu item:https://www.zsolnaynegyed.hu/en/barrier-free
It has proved to be accessible in an electric wheelchair, with hand-driven chair only with help, due to the slopes between the two external levels.
For visually impaired there are guide lanes in the area of the quarter in several places, but not everywhere. Indoors, unfortunately, they fell short.
In particular we miss the guide lane to the central Infopoint. Namely it is worth starting your visit here if you come as a person with a disability, because here you will get a map of the wheelchair route and the accessibility of the exhibitions.
Deficiency that they didn't even think about hearing impaired people at the infopoint. However, the free VisitorGuide app helps people with vision and hearing impairments in multiple languages to see the sights. On request guided tours for visually impaired people can be arranged, where some exhibition items can be tangible.
It is a surprise and a great pleasure that they have thought of smaller ones here, because the newest parts of the playground are integrated, so they can be used by children with disabilities!
Accessible toilets are located in all locations, well designed and none of them have cleaning equipment storage.
The entrance fee for people with disabilities is 300 HUF/exhibition, which is a significant discount compared to the price of 1500-1800 HUF. It is officially necessary to present a disability membership card, in reality if it's not there, that's not a problem with the discount.
Getting there:
by bus lines 2, 2/A, 60, 4, 104, 13, 15, 14, 102, 20, 21, 120, 30Y, 60, get off at the "Zsolnay Negyed" stop and enter Major street entrance. Most buses are accessible, bus stops and zebras are accessible, but the light does not sound for the visually impaired.
By car, you can stop in the parking garage on the other side of the bridge, where there are accessible parking spaces, or you can use the numerous accessible parking spaces in the quarter.