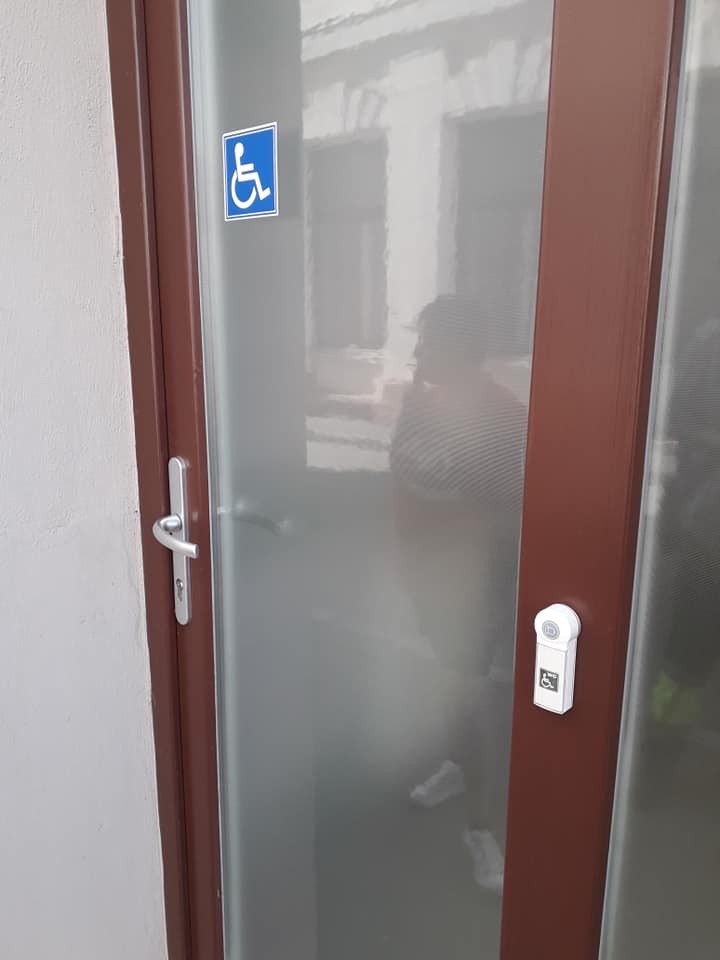 Széchenyi tér public toilet
Accessible toilet in the heart of the city centre, in the immediate vicinity of the main square in Ciszteri köz, next to the Pécs Gallery. The key must be requested separately at the "office" next to it, so a bell was installed on the door at our request.
The toilet is marked by a sign in two places in Széchenyi square.
Unfortunately, for several years we have been fighting to ensure that the barrier-free toilet in the tourist centre of the city is in good condition. Sometimes the huge cleaning machine that cleans the main square of the city is stored here, or there is a problem with cleanliness, but it was closed for months.
Our struggles with this toilet so far:
In July 2019, we first asked the municipality's city management company (Biokom), the toilet operator, not to store the cleaning machine there. Because either the machine fits in, or a wheelchair user and his helper. We also asked for a bell to be installed on the door. A disabled or blind person cannot go up the stairs to ask for the key. Biokom readily complied with our request, which we were very happy and grateful for at the time.
Then it turned out that we need to constantly check this place, because there are always some surprises that make the accessible toilet unusable.
In September 2020, we found the cleaning machine there again and the toilet was not in good condition either. We indicated that it was repaired after a while, we thanked it.
Unfortunately, during our inspection in December 2022 we saw that it was again being used as a storage room, the barrier-free toilet was inaccessible. We have notified the relevant authorities.
In June 2023, we were greeted by the sign "Closed for technical reasons" on the barrier-free toilet door. Workers there said this had been the case for many months. Moreover, the cleaning machine again stood in the barrier-free toilet.
We indicated to the maintainer that we considered this constant game unworthy.
In September 2023, no explanation was given, but we received an answer. In their polite letter, they indicated that the toilet was "fully usable, the scrubbing machine storage has been resolved and technical faults have been resolved". The bell has been replaced with a permanent, stable one.
However, when we were there, we were not completely satisfied, we still have doubts about the condition of the toilet. This is still not worthy of a tourist destination, which we consider Pécs to be.
Getting there:
by bus from the Árkád mall on foot without hindrance on the Irgalmasok Street, Széchenyi Square route
by car accessible car parks on Perczel Street, and on Széchenyi Square next to the Nagy Lajos High School (Janus Pannonius Street),  and next to the court building on Mária Street.