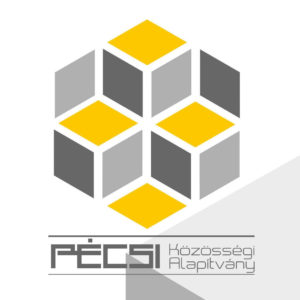 The Project's name:
"Pécs is liveable as a barrier-free city"
Supproted by: Pécsi Közösségi Alapítvány (Pécs Community Foundation)
Co-supported by: "Pécs  City  for  wheelchair users  – Promoting Inclusion through  both Improved  Wheelchair Accessibility  and Community building" –  Funded by the C.S. Mott Foundation under the Global Challenges Local Solutions Program run by the Academy for the Development of Philanthrophy in Poland
Its duration: 22.11.2018 – 31.08.2019
About the project in a nutshell:
Members of People First Association Pécs  have formed teams of two (consisting of a handicapped and an able-bodied person) and started  visiting restaurants, cafes, hotels, shops and public institutions in Pécs to map barrier-free places. They will talk to the owners to let put a sticker – which we designed – on the doors just like Visa or MasterCard. The sticker is 10×10 size, not ostentatious, not too colorful, not distracting but shows that the place is barrier-free so handicapped people can easily enjoy what the place has to offer just like other people.
In case the place has a truly (not only in the image of society "no stairs, so it must be barrier-free") barrier-free toilet – which is because of basic needs is just as important as it is with our able bodied fellow-creature – a WC sign appears in the lower right corner of the sticker as well. If the toilet isn't barrier-free, the WC sign don't appear on the sticker.
If the establishment is not fully accessible but improving its accessibility is possible and the owners of the establishment are open to it, we will be happy to support them with advice regarding the sourcing and installation of ramps, handrails etc., as well as help with official procedures.
In return the Association does not expect any financial compensation from the restaurants/cafés, moreover we will display it in a map-mode on our website, as well as through the wheelmap.org website all over the world (!), and we would like to achieve it similarly on the urban media sites.
Later we will extend this project to food and clothing stores.
All of this greatly contributes Pécs, as an assessment of barrier-free livable city, it's also a tourist attractant factor, because our disabled people are travelling the same amount and with the same enthusiasm like everyone else. Especially if a city specifically encourages them to do so and if they type Pécs on the international wheelmap.org they will be welcomed by many barrier-free restaurants/cafés that we have evaluated.
A barrier free society is not only advantageous to the disabled; young mothers with prams, the elderly, and those with temporary injuries also benefit.
Let's make Pécs barrier free!
Expanding the scope of activities of the project is made possible by the continued support of Academy for the Development of Philanthrophy in Poland funded by the American C.S. Mott foundation. Owing to their support Pécs Közösségi Alapítvány is able to involve other organizations in their project entitled 'Pécs City for wheelchair users – Promoting Inclusion through both Improved Wheelchair Accessibility and Community building activities' . Their new partners, Speckó Escape Room and Social Inclusion Studies, University of Pécs, are participating in the project between 1. January – 30. June 2019.
Interim report on the progress of the project (April 2019)

As part of our project we have visited more than 30 restaurants, cafés, hotels, shops and public institutions. Most of these have proven to be either fully or partially barrier-free, unfortunately with the exception of most toilets.
Some of the establishments are still awaiting final assessment, either because we need one last visit to check if the adjustments resulted in a fully barrier-free environment or because we are waiting for an official response (from banks, post offices, McDonald's restaurants, etc.).
We find the general attitude of people very positive, we are mostly welcomed and business owners are happy to help. Before giving the sticker to an establishment, we evaluate not only the design of the building but also the attitude of the management and staff.  It is also a "barrier-free conditions" for us.
We post pictures of and a detailed report on every single business we visit on our Facebook site (People First HU) and our Instagram account (peoplefirstpecs). On the home page of our website we included a link to Pécs on wheelmap.org, a worldwide map, visited mostly by European wheelchair users, where all wheelchair accessible places we evaluated  and photo documented can be found.
We are going to mark all wheelchair accessible places not yet on the map.
We have and will continue to make all barrier-free establishments of Pécs visible on the international website. This is an important step in attracting tourist to, as well as helping them get around Pécs.