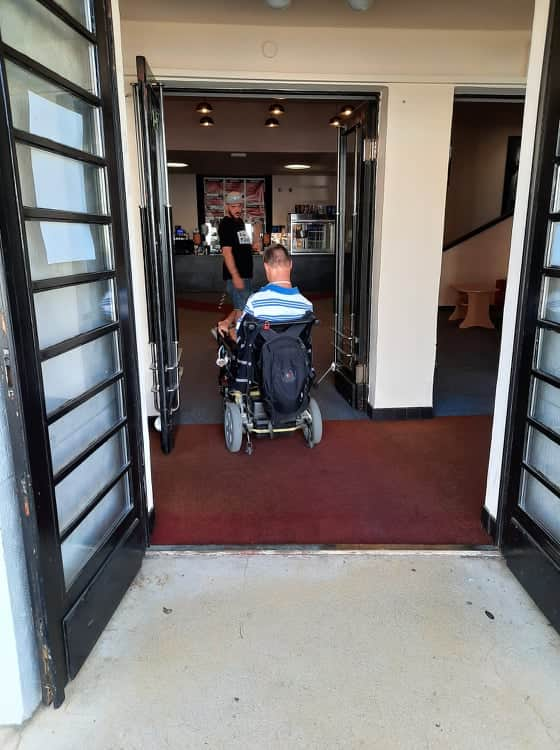 Cinema Urania
Opinions within our association were very divided as to the accessibility of the cinema. Overall we wouldn't say it's barrier-free, but brave participants can go to the movie.
The entrance is completely accessible, but here you can only get to the lobby where you can buy a ticket and the buffet is located. From here there are three steps leading to the auditorium which paradoxically was not there before the cinema was renovated.
The entrance called accessible leads to a corridor, then it is necessary to cut through the courtyard, which can not be considered barrier-free: the sidewalk is quite gnarled, weeds are hanging in, there are tight turns, the back door has a slightly high threshold (2-3 cm).
Once we get into the auditorium you can already have fun.
There is no accessible WC and they are not even planning on doing it, as  protected monument building (although we don't think that's an acceptable reason).
For visually impaired we had no problems, even though there was no guide lane. And the film can be enjoyed by our visually impaired member.
One of the most important means of communication accessibility for people with hearing impairments is subtitling, which unfortunately they cannot provide in the Urania cinema. This makes this cinema unenjoyable for people with hearing impaired.
Getting there:
by bus the cinema is located between the bus stops in Kórház tér and Petőfi Street, right in the middle. The walkways are usable dut not accessible.
By car there is no disabled parking, there are 2-4 parking spaces in front of it.