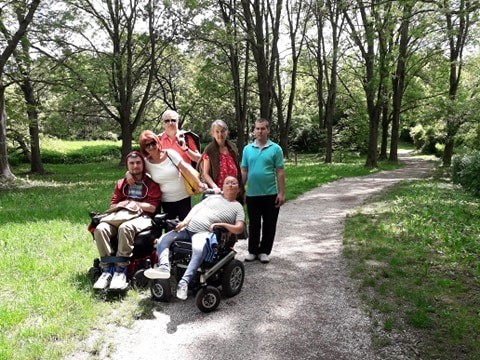 Malomvölgy
It is a very popular city hiking and fishing spot, we also regularly visit here with the association.
There are two lakes and a wonderful forest here, you can't bathe in the lakes.
Around the lakes there is a walking path of about 6 km with occasional little help, along which there are benches, fireboxes, rainforests, football fields, drinking fountains and playgrounds, and a buffet. You can just walk out for a little breath, or go around one of the lakes completely, but if you're going to hike bigger you can walk around both.
As a wheelchair user or visually impared it is worth going with a helper, there are some climbs, but basically everything can be walked without hindrance.
The city of Pécs is planning to renovate the parkland, so we will have more information soon.
Getting there:
by car Pécs-Kertváros city district direction Málom. Parking places at both lakes but there is no specially accessible parking.
By bus 7, get off  at final destination "Malomvölgyi út", from there is a concrete road of about 1.5 km leading to the lakes, with a very nice panorama of the city.