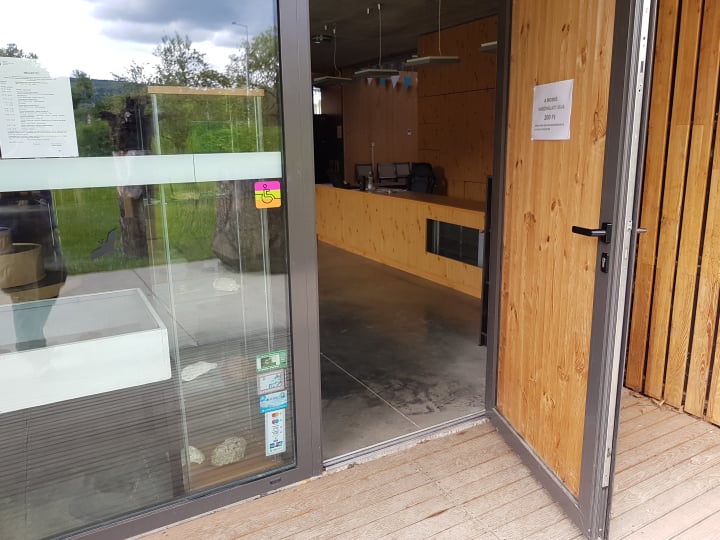 Medvehagyma Ház
A very visited, completely accessible event, exhibition and conference venue, Ecotourism Visitor Centre, in a beautiful location on the shores of the lake. And from the fall of 2022, it is already a Café! No wonder they even have weddings here.
The building, designed by Ybl Award-winning architect Margit Pelényi, is named after one of the characteristic and popular plants of Orfű and its surroundings. The ramsons/wild garlics ("bear onion" in Hungarian) comes out of the ground for the first time in spring here in the country, and here is one of its largest deposits. The house serves the conscious presentation of the natural heritage. In summer the Picnic Terrace is at the top of the building for a cooling drink.
It has an accessible entrance, comfortable access inside and an accessible toilet.
From here you can walk barrier free along the lake to the dam, or you can walk around the lake.
Web site: Information about accessibility is not available.
Every menu option is selectable and readable, with a simple structure and easy usability.
Getting there:
by car Orfű from Pécs 16 km, about 20 minutes drive. From Pécs you can get from two directions: through Uránváros city district, towards Daindol. It's the most popular road, the bus also comes by. Or through the city centre on Hunyadi road from the Pauline Church, and across the mountain on Lapisi Road. The roads to Orfű are serpentine, expect that.  You can park in the parking lot on the other side of the road opposite the Medvehagyma Ház.
by bus  from the Coach station Pécs. You can find the schedule here: https://menetrendek.hu/
If you need an accessible bus, please contact the traffic office beforehand at 72/520-154.