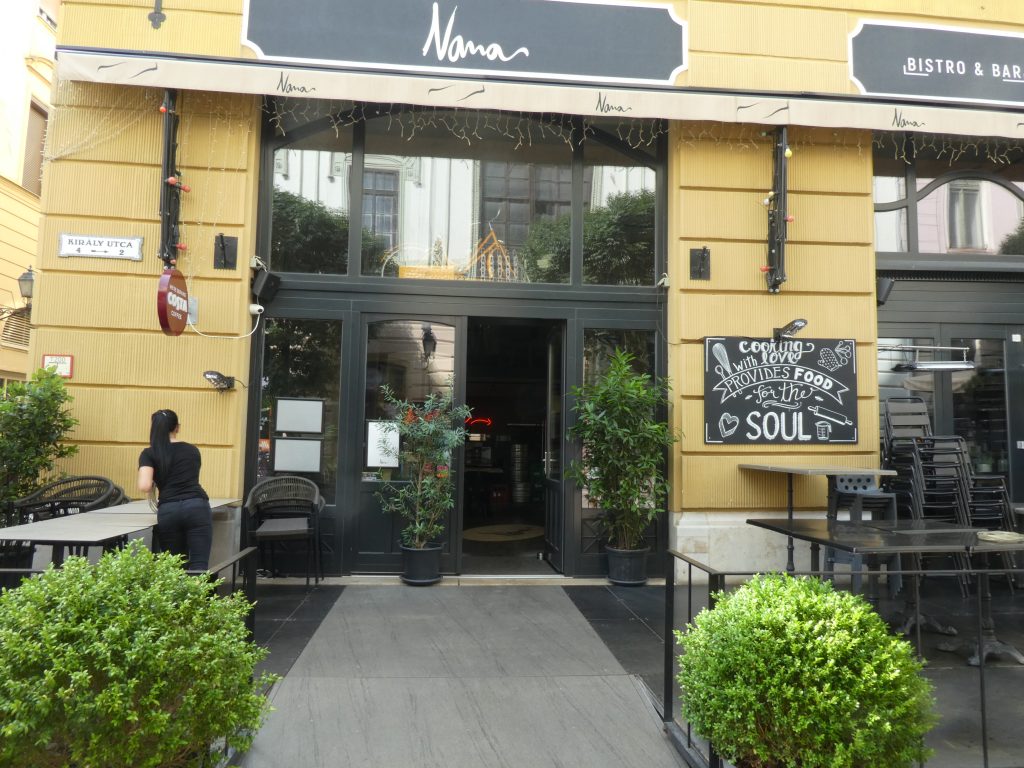 Nana Bistro&Bar
A special, extremely popular, high-quality restaurant and event venue at the bottom of the town hall, in the heart of the city center. When our Accessible Pécs database was launched, this was the very first location we explored. The kind attitude helped us a lot to continue our work, they gave us momentum and courage at that time.
The entrance is barrier-free, with a wide, permanent ramp that has a comfortable angle of inclination. There are no thresholds. The door is not automatic, but the waiter opens it wide to all guests. The restaurant is also comfortable to use in a wheelchair. You can't go up to the gallery.
Update: in addition to the men's and women's toilets, there is a separate larger toilet in the restaurant. Their front door is sliding door, no threshold. By the end of March 2023, we managed to get the owner to install a regular handrail on one side in the larger toilet, and the lighting time of the automatically switch-off lamp was also longer. Thank you very much for that, so we prefer to take our guests there.
Although we still cannot declare one of Nana's toilets to be fully barrier-free, whereas the wall-mounted L-shaped handrail on the other side of the toilet and the alarm bell are still sorely lacking. But now it can be used by more people with disabilities. According to their promise, there will soon be a handrail on the wall-facing side of the toilet. We'll wait :)
Getting there:
by car the nearest disabled parking spaces: 1 pc in front of the court building next to the Mosque, 2pc at the beginning of Mária Street, 1 pc at the beginning of Janus Pannonius Street next to the Nagy Lajos High School.
by bus it is worth getting off at the Árkád mall and you can get here without hindrance in 10 minutes on the Széchenyi Street, Széchenyi Square, Király Street route. Blind lanes also help you find your way around.