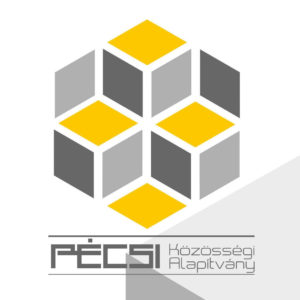 We are very happy to announce that our Association has won with the project called "Pécs is livable as a barrier-free city" at the Pécsi Community Foundation,  "Pécs's future foundation 2018 Community Creativity projects".
We are even happier to tell that out of the 17 projects that were handed in we're one of the 3 that they decided to support.
About the project in a nutshell:
Two of the members of People First Association – Pécs  (a handicapped and an able bodied person) are visiting all of the restaurants and cafes in the downtown area of Pécs to map the barrier-free places. They will talk to the owners to let put a sticker – which we designed – on the doors just like Visa or MasterCard. The sticker is 10×10 size, not ostentatious, not too colorful, not distracting but shows that the place is barrier-free so handicapped people can easily enjoy what the place has to offer just like other people.
In case the place has a truly (not only in the image of society "no stairs, so it must be barrier-free") barrier-free toilet – which is because of basic needs is just as important as it is with our able bodied fellow-creature – a WC sign appears in the lower right corner of the sticker as well. If the toilet isn't barrier-free, the WC sign appears crossed on the sticker. This is not discriminatory, this is information for our disabled people and to prevent incidental disappointment. But it's expected to cause an incinting effect on the owner of the place to make the toilet barrier-free in the future.
In return the Association does not expect any financial compensation from the restaurants/cafés, moreover we will display it in a map-mode on our website, as well as through the wheelmap.org website all over the world (!), and we would like to achieve it similarly on the urban media sites.
Later we will extend this project to food and clothing stores.
All of this greatly contributes Pécs, as an assessment of barrier-free livable city, it's also a tourist attractant factor, because our disabled people are travelling the same amount and with the same enthusiasm like everyone else. Especially if a city specifically encourages them to do so and if they type Pécs on the international wheelmap.org they will be welcomed by many barrier-free restaurants/cafés that we have evaluated.