Project title:
Soul Mate
Mental care at work for people with disabilities 
Project period: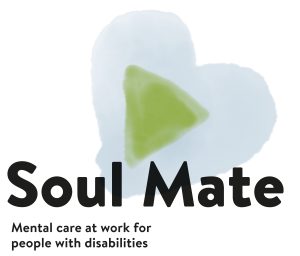 01.11.2022 – 31.10.2025   
Supporter:
Erasmus+
KA220-ADU – Cooperation partnerships in adult education 
Partner organisations:
KOPF, HAND und FUSS gemeinnützige Gesellschaft für Bildung mbH, GERMANY
People First Public Benefit Association, HUNGARY
SATIS, ITALY
Уърк Уит Ийз EOOD, BULGARIA
VSBI Verein zur sozialen und beruflichen Integration e.V., GERMANY 
Project summary in a nutshell:
People with disabilities remain one of the most disadvantaged groups in terms of employment and mental health.
Soul Mate addresses both issues combined by improving people with disabilities ́ opportunities to promote mental health and consolidate their ability to work or be an entrepreneur, thereby creating a prerequisite for a self-determined life.
Since there a no service specifically tailored to their needs we want to close this gap in the mental health care available to this target group. 
Soul Mate will provide new knowledge and concrete assistance on the topic of mental health at work for people with disabilities. This cost-free and easily accessible support service will contribute to improving their living and working situation.  
Aligned with the UN Sustainable Development Goals, Soul Mate promotes inclusion and diversity in education and work  
By combining each other's expertise and skills partners will develop: 
-a guidebook for the e-learning and network software and contents
-barrier-free e-learning mental health training programmes for employees, self-employed or employers with disabilities
-a transnational virtual network for experience & knowledge 
 A little more details about the project:
Soul Mate enables inclusion and diversity in education by providing a barrier-free learning environment on the one hand and addressing the issue of mental health in the workplace with a special focus on people with different starting points on the other.  
It is clear that people with disabilities are still predominantly excluded from the digital world, which has a huge impact on the social and economic inclusion of people with disabilities in our society. 
Mental ill health – which includes psychological problems and stress – is an important issue in all EU member states, as it represents a major burden for individuals, society and the economy.Diagnoses of depression and burnout have risen sharply in recent years. Every year, more than one third of the entire EU population suffers from mental disorders. 
Our project combines both issues and addresses them by improving their opportunities to promote mental health and help consolidate their ability to work or be an entrepreneur. 
Of course, people with disabilities are just as, if not more, affected by mental ill health. Because they embody two socially still stigmatized characteristics – disability and mental illness – they are at higher risk of stigma and discrimination, which may discourage them from seeking support. 
Since people spend at least one-third of their lives at work,  it can be an ideal environment for mental health promotion and preventive measures. However, there are no services specifically tailored to the needs of workers with disabilities.The project aims to fill this gap by providing a workplace mental health training program for employees, self-employed individuals, or employers with disabilities. 
In the long term the projects objectives are:  
– to consolidate the target groups participation in the working life and reduce the risk of deterioration or illness, thus contributing to social inclusion and safeguarding the right to a self-determined life.
– to eliminate factors at work that threaten mental health by maintaining awareness and ongoing exchange about the topic.  
Target group:
– Working people with disabilities who are mentally ill. especially want to target people who do not have access to certain mental health care services because they are not available in easy-to-understand language, sign language, with subtitles or audio description. Our target population is not required to have a medical diagnosis attesting to their need for mental health support.  
– Self-employed individuals with disabilities who are mentally ill
– Employers who employ people with disabilities
– Medical environment
– Multipliers such as disability representatives, business associations, etc., 
The main task of the People First Association as a Hungarian partner in the project:
People First takes on the task of including the perspectives of people with disabilities from the beginning. This is important because the demand "Not about us without us" is a key principle in developing inclusive outcomes.
The integration of the peer perspective is discussed in the guidebook, but also in the tutorials. People First will be responsible for creating the digital tutorials, with the various "sub-tasks" shared among all partners.