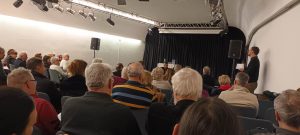 The City Civic Forum was organized by the Pécs City Hall on the evening of 25.01.2023. Our association also played a proactive role in convening this.
We were not surprised that a large number of active NGOs from Pécs gathered with the representatives of the town hall: Deputy Mayor Gábor Zag and Civil Councilor Márta Kunszt to discuss civil issues.
Among the topics covered in the civic councillor's report were the introduction of public participation self-government in our city this year, the Civil Concept adopted last year, the civil coordinator application adopted just yesterday, and the mapping of NGOs in Pécs.
On the part of the civilians:
it arose as a demand that the Civil Forum be held every year at this time, during the period of planning the city budget.
The Civil Concept was discussed several times, and the organizations indicated their need to implement the things described together in it. So, for example, to have a Civil Fund in the city hall budget again (there will be no one this year). And the specialized working groups described there should finally be established.
It was a strong request for equal treatment of support for NGOs by city hall.
For a long time, the unbearable increase in current overhead costs in Hungary has been a topic (the town hall is trying to find a solution to support civilians).
The civil coordinator application was judged differently. On the one hand, it would have been good to decide also on this together with the civilians. On the other hand, according to several people, it may not be appropriate to single out an NGO, especially since there is a deputy mayor and a civic councillor dealing with this topic. However, city hall said they needed insider help to connect with NGOs.
For our part, we hope that in the promised sequel, the atmosphere of the Civic forums will become more cooperative. Instead of the current attack-defense-blame, acknowledging each other as real partners can create a much more forward-thinking situation and discourses.
We think that would be the right thing to do.