Because in wheelchair sitting we need a bit different accommodations: higher bed as the average (58-60 cm) which is a level in the wheelchair that allows of lifting somebody.
The room door is wider, there is no threshold and carpet. The room is so big that the car can turn, the handles, switches are available and if it possible there are sliding doors. The red wire hanging from the wall needed for help request.
In the bathroom are the biggest weirdnesses: there is no shower tray because we couldn't roll in with wheelchair. We need there a folding seat, and on both sides of the toilet properly equipped clingings. A bigger place is also needed here. Under the sink there must be access to a wheelchair and the mirror has to be lower or adjustable.
Maybe this all sounds like a lot but it's the only way we can travel. A barrier-free accommodation usually can be created with good intentions without a problem.
It's good to be on your guard and before booking a room should be consulted the reception if the barrier-free advertised hotel really is!
Thank you for reading this!
And thank you for our members Alexa Dékán and Zoltán Koppány the assistance in the description!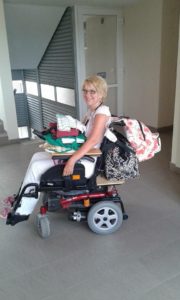 Alexa Dékán: "So I can travel far independently, that's why I need a bigger place! 😉 Why I want to be self sufficient? Because this is the opposite of vulnerability ;)"